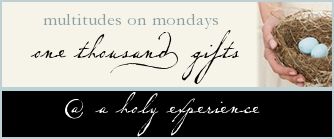 a daffodil blooming in February!?!
Mardi Gras with friends
king cake
a compliment
Bingo
the fun the boys have with Hungry Hungry Hippo
St Pius sodality for making Bingo special for the kids
another compliment
roses that still linger
a glass of wine
boy laughter
Trader Joe's
a bouquet of sunshine in my home, from my flower beds and it is still February!
the smell of daffodils int he home
warmed up by boys crowding me while reading
texts from hubby
sunshine
stations in the AM with my boys
a quiet morning
boys who sleep in
meringue
perfecting my "home school blinders"
a long, but productive day
Patrick Henry's speech and my 8 yr old working so hard to memorize it
getting all items up for sale
warm weather
playing outside
the newness of old toys
1st Friday mass
Trader Joe's
a full day
my hubby watching the boys and strolling around Lowe's for 2 hours!
a yummy breakfast
seeing friends at mass
getting the counter top ordered
dinner with family
chocolate cakes
a good workout
Dixie cup icers
resting my legs
the boys helping each other do school
getting the sink and faucet ordered
(gifts 621-663)