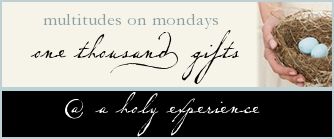 I have not blogged these in two weeks, but my list in my journal has grown. So, here is the accumulation of almost two week's worth of gifts!
459. snow covered trees
460. big fluffy flakes
461.seeing the big, full moon rise
462. an unexpected show
463. finding a treadmill on craigslist
464. a surprisingly orderly home even though 2 boys have the stomach bug
465. a week in which we are forced to slow down due to illness
466. so many awesome runs on my new treadmill
467. fresh veggies, bowls full
468. having a heart ache for prphans and a strong desire to adopt
469. our warm comfy, blue, blanket
470. my comfy 147 Million Orphans shirt
471. warm fleece pj's
472. the Canticle of Simeon
473. boy rebuilding their fort
474. the laughter of my boys
475. a marathon training schedule, back on track
476. the belief that I can cover the distance again
477. yummy, crispy, gluten-free waffles
478. my little 3 yr old playing with a dinosaur
479. that same boy sitting in Daddy's arms
480. that same little boy and how is hair sticks up!
481. A hugging K so sweetly during dinner
482. new running shoes
483. J so excited for fife and drum
484. the smile he gets when he is praised by his fife teacher
485. St Cecilia altar
486. seeing NE DC through the eyes of my MIL- driving her down streets she grew up on
487. trip to the Franciscan Monastery
488. the walk through the catacombs
489. snake fossils in the altar
490. boys' wonderment
491. confession
492. when homeschooling goes well and when it doesn't
493. a St. Catherine medal in the clearance bin
494. Belgian waffles
495. holy oil
496. blessing sleeping boys
497. seeing the word REJOICE in my home when I need to see it most
498. the crunch of icy snow under little feet
499. a cold night
500. christian music on the radio
501. boys playing outside, in the snow, in the dark
502. the fun of a lantern
503. hubby doing the dishes
504. a glass of wine
505. a humming Cardinal during mass
506. a little girl's smile and affection
507. the Blue and Gold dinner
508. flannel sheets
509. nicely sharpened pencils
510. light and shadows on a cup of milk and one, little boy's fascination with it
511. a nice, sunny day
512. the talkative nature of my three year old
513. the longing to adopt
514. the fog rising off the Severn River . . . . picture perfect
515. storm clouds in the distance
516. a great group of women, in my living room discussing a great book
517. my cozy, warm, fleece-lined running pants that I wear for everything!
518.J wanting to buy me a fireplace
519. J reading Farmer Boy to me
520. Filet Mignon for dinner