I have not listed my Thousand Gifts in a while. It is not that I stopped doing it. I am still writing them down, but I have definitely slowed. My journal still sits on the kitchen counter. Although, most days, I do not even open it to list the blessings. Days go by before I write them down, and suddenly I remember to write a few down all at once.
I got an email from someone the other day. She mentioned that she really needs to look for the blessings because the the messes, the laundry, the sink full of dishes, often distract her. I can add to the list: legos under feet, little boy underwear found thrown behind the couch (
do not ask
), school books strewn all over.
The list could go on and on.
But that email got me thinking. And, as I was thinking about it and walking
barefoot
into my kitchen, I walked right through a pile of sand! Yes, sand. We do not live at the beach, or even close to water. But, we did just fill the boys sand box. I looked down, wiped my feet off and just stared at the pile of sand on my kitchen floor.
The mess
.
The messes that distract me from the blessings
. And I wrote it downon my list of things to be thankful for. Because as annoying as that pile of sand could of been for me, at that moment it reminded me of my blessings: boys that play so well together, boys that have so much fun in the sand box, the beautiful weather, the laughter of my children,
the gift of their lives in my life
.
Yes, the messes come. But how empty my life would seem without those who create most of the messes. Yes, I would still be blessed, but, with those boys in my life, my cup overflows.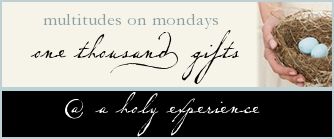 276. boys building a cross
277. boys playing stations of the cross
278. my Grandfather's life
279. being with family
280. boys in ties
281. A singing at the funeral
282. a conversation with my Uncle
283. seeing my cousins
284. good conversations
285. hugs
286. a funny, touching eulogy
287. a husband who sits in the car with a sleeping A
288. learning more history about our family
289. cuddles with a cute, fuzzy puppy
290. finding a small town marathon
291. the kindness of the race director
292. the kindness of someone willing to sell their bib to me at a greatly reduced price
293. the hope of a new marathon
294. after watching a St Jude Hospital program on TV at the gym: my kids' health
295. friends who watched the boys so hubby and I could go on a date night
296. hyacinth blooming
297. a little boy who was so good at mass
298. a boy who lays on the floor petting his dog early in the AM
299. becoming a marathoner
300. flowers growing on the side of the road
301. no IT band pain
302. Insanity workout
303. conversations with my 2 yr old
304. First communion
305. conversation with my mom
306. sandaled feet
307. piles of sand on the kitchen floor
308. birds chirping so loudly you would think they were in the house
309. a three yr old who climbs out of his crib in the morning and stands next to my side of the bed and proclaims, "Mommy, I awake!"
310. the patience of my husband
311. 2nd row tickets
312. boys dancing
313. two boys who read
314. May crownings
315. babies
316. pregnant bellies
317. learning to see the gift of our home and learning to be happy here
318. knowing that I have enough
319. my 4 yr old who wanted to come to the Holy Hour with me